THEME FOR 2018
---
36 DAYS OF FASTING AND PRAYER IN 2018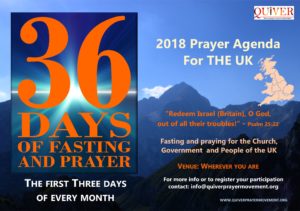 Dates: The first three days of every month in 2018
Venue: Wherever you are
Key Scripture: Psalm 25
"Redeem Israel , O God, out of all their troubles!" – Psalm 25:22
We would like to invite you to join us in 2018 for 36 Days of Fasting and Prayer for the United Kingdom, Uganda, Ghana, Cameroon, Nigeria, Kenya and South Sudan. The 36 days will consist of the first 3 days of every month in 2018. Towards the end of each month, we will send out the prayer focus for the following month, giving details of scriptures and key prayer points.
FIRST 3 DAYS OF THE 36 DAYS OF FASTING AND PRAYER: 1ST – 3RD JANUARY 2018
Kindly let us know if you would like to participate in this prayer initiative or are interested in receiving the monthly prayer focus, updates or more info, by sending us an email at info@womenintune.org
Also, please feel free to share this with others who might be interested in taking part in fasting and praying for the UK and the nations.
"But on Mount Zion there shall be deliverance, and there shall be holiness; the house of Jacob shall possess their possessions." – Obadiah 17
---
WIT Annual Conference (In Partnership With QUIVER)
Date: SATURDAY 3RD MARCH 2018
Theme: LIVING IN THE DAY OF HIS POWER (Psalm 110:3a)
More information coming soon. (Save The Date)